All facebook users can access their friend list. The list is there so you can organize your friends updates you want to see and those you'd want to discard. With Facebook friend list you can classify the level of interest you have for your friends and Facebook will only display updates of the friends that you find most useful. So a Facebook user can use the list to control his news feed better.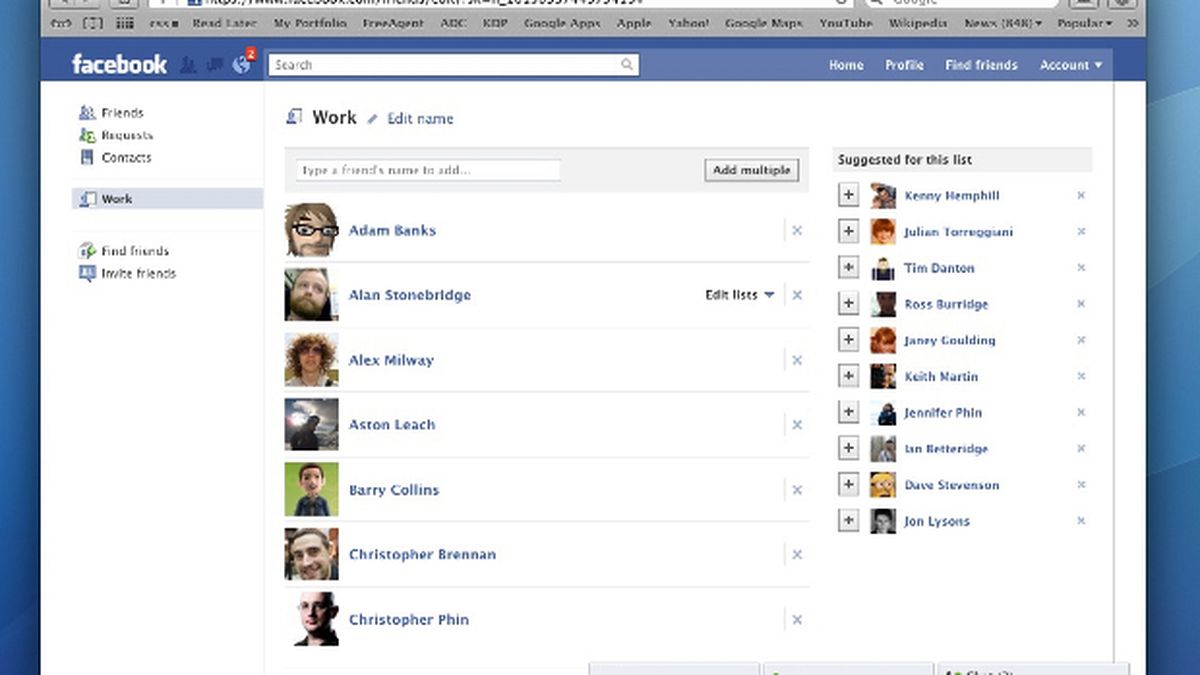 When you create a Facebook account, Facebook creates a default view for you to see this list, mouse over the friend header on the left sidebar of your news feed page and click "More."  Lists of categories like Close Friends, Acquaintances, Family, Work, School, Your Area, and Restricted." Priority is given to friends you add to close friends than those you add to acquaintances list. By adding your friends in these lists, you are assisting Facebook in deciding the updates you want to see.
If you feel you are not receiving enough updates from your acquaintances, you can move those you would like to see to the "Close Friends" lists. When a new friend request is accepted, you will be directed to the person's profile page. You can add that new friend to a particular list by clicking "Friends" link and select the list you want to add the new friend to.
Whenever you add or remove people from any lists, Facebook sends a notification to those you added in the list and at the same time ask them to reciprocate the same by adding you to their own list. Although this does not apply to "Close Friends", "Acquaintances", and "Restricted" lists; these lists are considered as a private list, so people are not notified when they are added or removed from this lists.
Creating a Facebook Friend List
Log on to your Facebook account on www.facebook.com web portal. This should take you to your news feed if you are already logged in. Otherwise, enter your login details on the login page. Once you are logged in, mouse over the "Friends" link and select "More" button. You will be shown the number of lists you already have on the resulting page; click on "Create List" link on the same page.
Once you have clicked create a list a page appears. Fill in the name of the list you want to create and add new members to the list. You can add the name of those you want to add by typing the name of those you want to add. Facebook will list out friends you have with that name. Select the person you want to add and type in another name you want to add. Do this until you have completely added every person of your interest. Click "Create" once you are done adding people.
How To Edit Facebook Friend List
Select the name of the list you want to create from the list you have in the friend list page. Click on manage list button and make the adjustment you want to make in the friend list. You may edit the name of the list; select the updates you want from the list; or remove the list. This applies to the list you created only not the default list.
View Facebook Blocked list
ON YOUR FACEBOOK APPLICATION:
To view your blocked list on your mobile application, there are two ways:
A.
On your Facebook app, tap on the menu button (☰)
Tap on "Account Settings' (for iPhone users tap on "Settings")
Tap on "Blocking"
B. 
 Tap on the menu button (☰)
Tap on "Privacy shortcuts"
Scroll down and tap on "How do I stop someone from bothering me?"
On the drop down menu, tap on "Blocked users"
ON YOUR BROWSER:
Click  in the top right of any Facebook page
Click "Privacy Shortcuts"
Click "How do I stop someone from bothering me?"
Click "View All Blocked Users".