Do you want to know how to see your blocked list on Facebook messenger? If yes, then this article is for you. Facebook is arguably the best and most popular social media platform at the moment, with features that are designed just to give you the best of experience. With Facebook, you can always make new friends and connect with a wider group of people globally.
However, because of the open nature of Facebook, chances are that you can make friends with people who can be really annoying. Some persons can be sending you the kind of messages that you are not comfortable with. When this happens, you may want to block such persons on Facebook. Yes, Facebook gives you the opportunity of blocking and unblocking people that bothers you.
Also Read: Blocking People on Facebook Messenger
Consequently, after blocking someone on Facebook, you may want to know how you can view the list of people you have already blocked on Facebook messenger. Hence, this post is a step by step guide on how you can view your blocked list on Facebook. To do that, simply follow this simple guide below.
Also Read: Unblock A Friend On Facebook | Unblocking Someone – Facebook User Unblock
Joke: Your future spouse might be on your Facebook blocked list. Sometimes it's advisable to go to your Facebook Blocked List just to see how your prisoners are doing.  Lol!
Types Of Facebook Blocking
There are many types of blocking on Facebook. The one that you chose to use is dependent on the specific thing you want to do with it. The types includes: block users, block messages, block app invite, block event invite and the rest of them. As a result of the above types of blocking on Facebook, this post tries to identify how you can easily know the specific items you have blocked on Facebook
How To Locate Your Blocked List On Facebook
To view your Facebook blocked list, simply follow the instructions below:
Log into your Facebook account by clicking here
Once you are logged in, click on the setting icon, located at the lower right conner of your Facebook page as shown on the pics below.

Once you click on that icon, a new window pops up as can be seen on the picture below.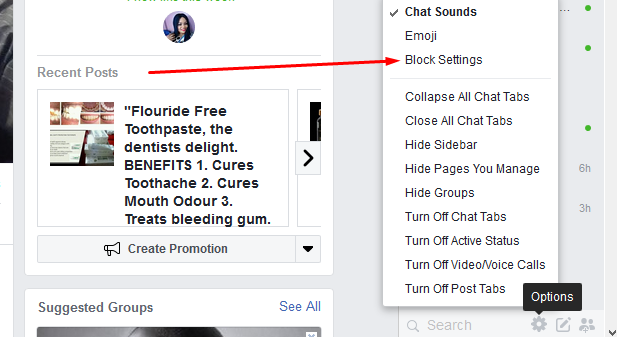 Quickly click on blocked setting, and a new window pops up, showing you all the people you have blocked on your Facebook, as can be seen from the pics below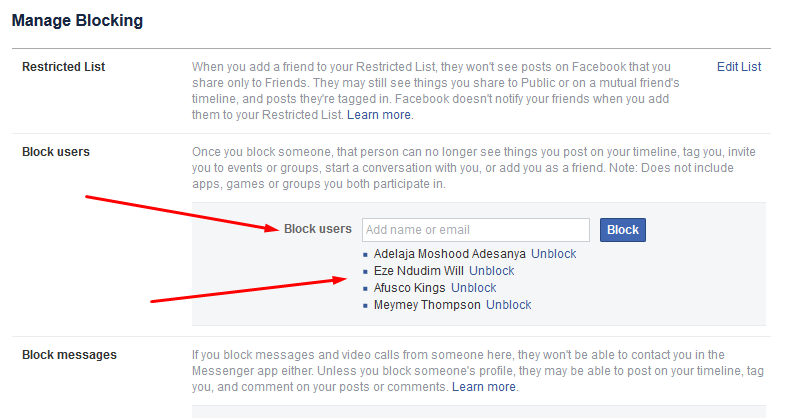 So, that is it guys. I'm sure that this quick guide was helpful, wasn't it? You can use the comment section down below to let us know how the experience was. If you are still having any difficulty following the procedures above, always feel free to use the comment section down below to let us know, and our team of experts will surely get back to you as soon as possible.